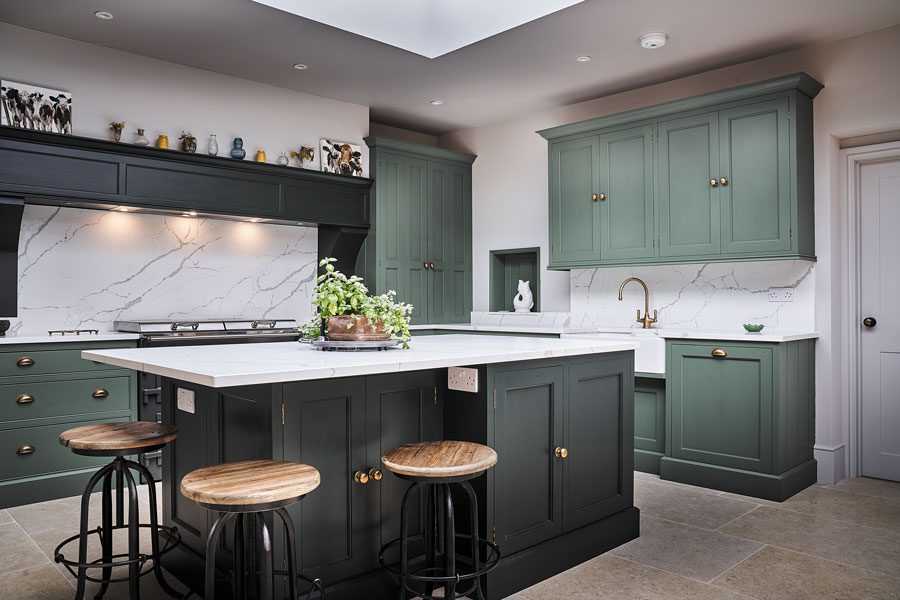 Each distinct element of your bespoke Hill Farm kitchen begins as a hand-drawn plan, and ends in a lick of paint.
To complement our artisan craftsmanship and high-quality materials, we only use the finest quality paints from brands renowned for their endurance and light-reflecting properties, such as Farrow & Ball, Little Greene, Paint and Paper Library, Zoffany and Fired Earth.
Farrow and Ball
Farrow & Ball paints are a timeless addition to any home. Dating back to 1946, John Farrow and Richard Ball combined their unique skills as a chemist and an engineer (respectively) to create hard-wearing formulations that stand the test of time. Made in rural Dorset, England, these robust recipes have endured – making them the perfect match for a Hill Farm Furniture Kitchen! Find out more.
Little Greene
Little Greene paints offer high pigmentation (as much as 40% more than some other brands) and are suitable for both domestic and industrial use. Dating back to 1773 when they were called the Little Greene Dye Works of Collyhurst Wood, the company is based in Manchester, England, and prides itself on its incredible depth of colour. Find out more.
Paint and Paper Library
Paint and Paper Library is another popular paint choice we utilise. Accredited by The Royal Institute of British Architects (RIBA), their palettes are made to extraordinarily high standards and are "credited with creating an unrivalled balance of colour, mood and light in contemporary interiors." Find out more.
Zoffany
Zoffany paints promise to immerse you in the "alchemy of colour", with 156 delicate shades designed to complement your home as well as offer an interplay between their fabric and wallpaper collections. Available in three distinct finishes, each is made the very highest specification. Find out more.
Fired Earth
Starting life in 1983 selling Terracotta floor tiles, Fired Earth now offers over 120 paint colours, spanning neutrals, accents, and pastels. Boasting high performance and a minimal environmental impact, they offer "authenticity, creativity and style". Find out more.
As you can see
We choose only the best for our Quebec Yellow Timber or Tulip Wood cabinets, ensuring an enduring finish and lasting precision.
We believe that colour, texture, and sheen are a vital element to any kitchen – and not only as a finishing touch.
When chosen properly, the right paint formulation can mask uneven walls, drastically enhance the illusion of space, and minimise long-term maintenance.
Of course, your dream kitchen is exactly that – yours! We're happy to opt for a colour and finish of your choice, giving our expert advice every step of the way.
Need a touch of inspiration? Visit our gallery here
Get in touch
Ready to get started on your dream project? Please fill in the adjacent contact form and a member of the team will be in touch.